By

In a column this morning, Dan Granziano of NJ.com analyzed the Sabathia offer via an economic spectrum. While, as Brewers GM Doug Melvin said, the Yanks may very well be bidding against themselves, the offer makes perfect sense if you assume the viewpoint of the Yanks. To them, Sabathia is an investment worth at least $140 million over six years.

It's true that the Yanks probably would have had the current top bid had they offered "only" $110 million over six years, but then the Brewers could have counter-offered. The Yankees didn't want to take that chance, and the powers-that-be felt that an initial offer of $140 million over six years was a true expression of the value of CC Sabathia to the Yankees for the length of the contract. This is a good point to remember when other teams and their officials and fans start complaining about the Yanks' riches. It's all about the economy. · (63) ·
Just to rib the people involved in the Jake Peavy discussion, here's something you can keep in mind when spelling his last name.
This is a Peavey:
This is a Peavy: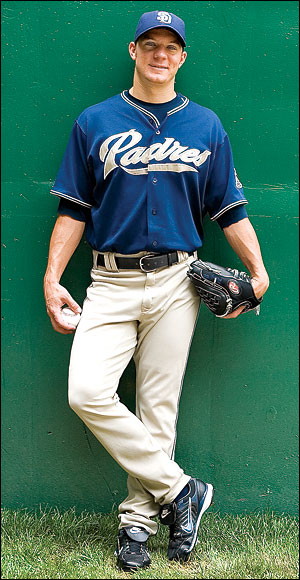 Any questions?
The back-and-forth on Jake Peavy and the Yanks continued today with Buster Olney's offering up his take on the rumors that just won't die. According to Olney's latest blog post on ESPN.com (Insider-only), the Padres and the Yanks probably won't be consummating a deal anytime soon.
Writes Olney:
he past conversations between the Padres and the Yankees about Jake Peavy never developed into anything that close to being serious, sources say, and it's highly unlikely the Padres and Yankees will ever get serious about a Peavy deal.

The Yankees are focused almost entirely on adding pitching through free agency, because they won't have to part with their prospects in a deal. CC Sabathia, Derek Lowe and A.J. Burnett are the Yankees' targets, and not Peavy.

So, in practice, two things would have to happen before Peavy-to-the-Yankees became serious:

1. A whole bunch of other pursuits would have to end badly.

2. The price on Peavy would have to come down.
I know a lot of Yankee fans would like to see Peavy in pinstripes; I know others who think trading for him would be a bad move. I'd much prefer Peavy over Lowe or Burnett at the right price. I think he represents a better long-term investment and will be a better pitcher over the duration of their respective contracts.
That said, I can understand why the Yanks don't want to give up the farm for Peavy. I can understand why they'd rather go after the free agents. But if the Yanks sign CC, and the price on Peavy drops, it would be hard to say no to that deal. It might not be accurate for us to seriously evaluate this potential acquisition right now, but things have a funny way of changing in the Hot Stove League.
It seems that despite the free agent signing period opening on Friday, baseball took the weekend off. The most we got was a rumor that K-Rod was in New York for a physical. Well, that and the Yankees' mega offer for CC Sabathia. Does the fact that CC hasn't yet accepted this offer, and likely will not accept it in the next few days, mean anything in the long run of the Yankees pursuit of the hefty lefty?
Not at all. Why should it? Clearly, Sabathia's agent wants to field a few more offers before making any sort of decision. He likely wants to see how things go with Mark Teixeira and the Angels, since that club is a likely suitor for his client. He probably wants to see how the Manny situation develops. He also probably wants to get an idea of offers made to other free agent pitchers. In other words, he wants to give the situation time to develop so he can better gauge what is in his client's best interests.
As much as we wish this would play out quickly, that's just not likely. We're talking about the best pitcher on the free agent market, possibly the best one to hit the market in the past five to ten years. Yes, the Yankees offer was generous, and I'm sure he appreciates the gesture. That doesn't mean, however, that he's just going to sign it. He probably wants to see what's going on elsewhere. And that's no insult to the Yankees.
Imagine this scenario, though. CC claims that he wants to get this done quickly: "I want to get it done pretty quick. I try to be as less free as possible. All that is is stress, having it drag on through the winter. We'll see what happens." So here's how he could not only get this done quickly, but maximize his return in the process.
Now that the weekend has passed, Sabathia's agent, Greg Genske, could/should go to Cashman and say: "We appreciate your more than generous offer. While we understand that this will make CC the highest paid pitcher in the history of the game, there are other factors to consider. However, my client has made it known that he doesn't want to drag this out all winter. Our counteroffer is six years, $150 million. If offered, we will sign immediately."
Pie in the sky? I don't think so. It works for Sabathia because he won't find that kind of money elsewhere. It works for the Yankees because it reels in their top target, allowing them to focus on the rest of the roster. Once again, it's not likely. But it sure is neat to think about.
By

Jim Leyritz sat down with two Daily News reporters to talk about his fatal DUI accident. In the first interview since December's crash, Leyritz talked about the psychological and emotional impact the accident had on him. Surprisingly, when talking about the victim, Fredia Ann Veitch, Leyritz claimed that his car had been parked at a red light when she went through the light and hit him. If true, he'll face a heavily reduced sentence after his trial, set to begin in January, wraps up. But the reality is that Leyritz was still behind the wheel with a BAC of nearly twice the legal limit. · (32) ·
James Donten has been been photographing High-A Sarasota Reds' games for the last two seasons, and finally put together a website for his work. You can check out his gallery of Tampa Yanks' players here.
AzFL Peoria had a scheduled off day.
HWB Waikiki (5-1 win over West Oahu) Waikiki wins the HWB Championship, the first in franchise history, including the league's first go-around ('93-'97) … the title game was rained out last year and North Shore was given the title by default, so at least this year they actually got the game in
Damon Sublett: 0 for 4
Saturday's Games
AzFL Peoria (10-8 loss to Surprise)
Kevin Russo: 0 for 5 – hit streak comes to an end at 20 games … well done sir
Austin Jackson: 1 for 5, 1 R, 3 RBI, 2 K – 12 for his last 26 (.462) with 4 doubles & 6 RBI
Kevin Whelan: 1 IP, 3 H, 3 R, 3 ER, 1 BB, 2 K, 1-0 GB/FB – 17 of 27 pitches were strikes (63%) … first bad outing in the fall league, his ERa shot up from 0.63 to 2.35
HWB Waikiki (5-4 wn over Honolulu) Waikiki won the HWB East Division on the final day of season when Cubs' prospect Marquez Smith mashed a pinch hit two-run homer with two outs in the ninth off Phils' stud Kyle Drabek (Doug's son) to give the Beach Boys the lead
Damon Sublett: 1 for 1, 1 RBI - delivered a pinch hit RBI single in the 5th
Austin Romine: 0 for 2
Friday's Games
AzFL Peoria (8-6 win over Surprise)
Juan Miranda: 0 for 4, 1 R, 1 BB, 2 K – just 6 for his last 42 (.143)
Phil Hughes: 5 IP, 2 H, 0 R, 0 ER, 1 BB, 6 K, 3-6 GB/FB – 52 of 80 pitches were strikes (65%) … MLB.com had a nice little write-up on the outing … he lines up to start the Javelinas' final game of the season this Thursday, and assuming he throws the AzFL max of 5 innings, he'll finish the year with 107.2 IP
HWB Waikiki (4-1 loss to Honolulu)
Damon Sublett: 0 for 4
Jeremy Bleich: 5 IP, 2 H, 0 R, 0 ER, 3 BB, 2 K, 5-6 GB/FB – 48 of 85 pitches were strikes (56.5%) … one of the walks was intentional, but even so he allowed just 4 walks in his last 29.2 IP … finished the season with a .216 batting avg against & 31 K in 30.2 IP … next stop, High-A Tampa
Thursday's Games
AzFL Peoria (9-6 win over the other Peoria)
Kevin Russo: 1 for 3, 1 R, 2 RBI, 2 BB, 1 K
Austin Jackson: 0 for 4, 3 K – ouch
Humberto Sanchez: 2 IP, 1 H, 0 R, 0 ER, 1 BB, 0 K, 3-2 GB/FB – 18 of 31 pitches were strikes (58.1%)
HWB Waikiki's game with North Shore was cancelled due to "other." Don't ask me.
While it's been a slow day in Yankeeland with only a scant rumor about CC Sabathia to whet our collective appetites, some interesting news around baseball has surfaced.
As Scott Boras and Manny Ramirez attempt to convince potential suitors that Manny can be a serious baseball player, someone — probably from the Red Sox — leaked a sordid tale of suspension to ESPN's Pedro Gomez. Apparently, the Sox came very close to suspending Manny without pay over his decisions to opt against playing in the July contests against the Yankees. Instead, they traded him to the Dodgers, and it's clear that this story is supposed to serve as a caveat emptor to any team looking at Manny.
In other Red Sox news, Nick Carfado reports on a potential trade between the Red Sox and Tigers. The Red Sox would ship the useless Julio Lugo to Detroit while the Tigers would send either the useless Dontrelle Willis to Boston or the also-fairly-useless Nate Robertson to the Red Sox. That trade would simply swap one reclamation project for another.
Finally, in some CC Sabathia-related news, Jayson Stark feels that the Yanks are the most likely destination for the lefty. I'm not counting my chickens before they hatch though.
So enjoy this thread. Discuss whatever you like: baseball, Skins-Cowboys. Just play nice.
By

According to Anthony McCarran, CC Sabathia may be feeling the heat from the Players Association to accept the Yanks' record-setting contract. While on the record, PA reps deny the charge, McCarran's sources seem to suggest that the lefty's contract should set the market for pitchers. I doubt the union would exert explicit pressure on CC, but I can see why the rest of the union would want him to sign the best deal out there. · (24) ·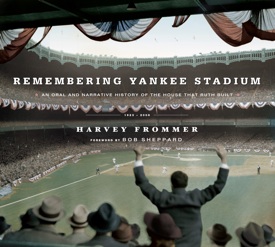 Remembering Yankee Stadium, Harvey Frommer's illustrated and oral history of the House that Ruth Built, starts on a high note and keeps getting better. Bob Sheppard, the Yankee PA announcer, out all of this season as he convalesced from a serious illness, offers up his introduction to the impressive tome.
"From the old days when Bronx cheers bounced off the Stadium's copper facade to recent times when the Stadium's visage is DiamondVision and the sounds of 'We Will Rock You' are part of the scene, Yankee Stadium has been the citadel of the sport," Sheppard writes — and it's hard not read the words in his booming voice. "Where in one place could so many baseball icons display their rare talents with such regularity? Where else could I have viewed the transformation of Yankee fans from the jacket-and-tie cognoscenti of the 1950s to today's bleacher creatures?"
Nowhere else, of course. Beginning with photos of Yankee Stadiums' construction in the early 1920s and continuing on through the groundbreaking at the new stadium and the dismissal of Joe Torre last winter, Frommer's book offers Yankee fans the opportunity to take that same ride Sheppard has taken.
Frommer has crafted a great mix as he honors Yankee Stadium, and presenting a building that has stood the test of New York time for so many decades is no easy task. The interviewees run the gamut from Sparky Anderson to Bob Wolff and touch upon everyone in between. Jim Bouton? Check. Mario Cuomo? Check. Whitey Ford, Don Larsen and Bill Virdon? Yes, yes, and yes. Who could leave out Rudy Giuliani? Even Red Sox — Dwight Evans — and Red Sox fans — Michael Dukakis — chime in while Phil Rizzuto, from beyond the grave, lends his voice as well.
To tell the tale of the Yankees as told through the stadium, Frommer mixes his own chronological narrative with uninterrupted snippets of interviews he conducted. Bobby Richardson and Johnny Blanchard talk about playing for the Yanks in the 1950s. Jon Miller talks about the sterile Yankee Stadium that emerged from the renovations in the 1970s , and Jim Boutin discusses the way the players felt about the stadium-altering changes made.
But beyond the words, the pictures tell the story too. The two-page photos at the front are among the most iconic of Yankee imagery. There's Lou Gehrig in tears, Don Larsen wrapping up his perfect game, and of course, Mariano Rivera following through on a pitch. Inside, the pages are alive with photos. From the Babe to Yogi and Elston Howard to Reggie Jackson's famous swing to a two-page montage of Derek Jeter throws and, yes, even to A-Rod's infamous move in 2004, the stadium comes alive in the full-color pages. The overhead shots of Yankee Stadium over the years are stunning as well.
In a few months, we'll head up to the Bronx to see a new Yankee Stadium. It will bear the same name as the old park with none of the history. Frommer's book is the perfect way to learn, enjoy and appreciate that rich history. With the holidays fast approaching, this $45 book from Stewart, Tabori & Change would make a great gift for any fan of the game.
As Bob wrote, "This grand cathedral of baseball has given me treasured memories, not the least of which is seeing several generations of Yankee fans." Through these interviews and images, several generations of Yankees are immortalized for all to see.
Amazon has Harvey Frommer's Remembering the Yankees on sale for the low, low price of $29.70. But I should urge you to support local book stores if you're so inclined. I'd hate to see those go the way of the House that Ruth Built.
By

Forget the ESPN experts. Forget Baseball Prospectus. LeBron James, the NBA's most famous Yankee fan, thinks that the Yanks are going to end up with CC Sabathia. I'm sold. Do we really need a better source? · (48) ·