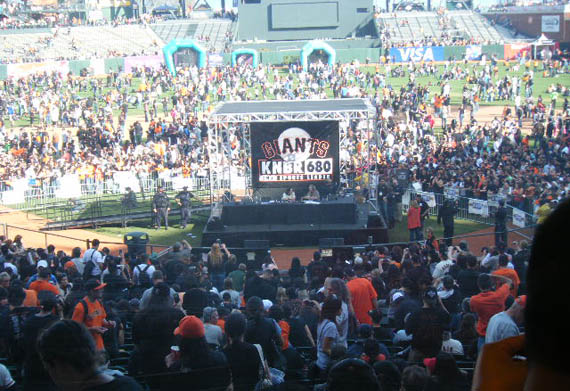 A little back story about me: I live in Silicon Valley, so AT&T Park is just a hop, skip and a mass-transit jump away from me. I was lucky enough to attend the Giants ticker-tape parade (it wasn't the Yankees, but still cool), so I figured that I should definitely go to GiantsFest. Free, interesting, and enough baseball to keep me going for a few more weeks. I hooked up with a friend I met on Twitter and we were off. We stood in a line for about two hours that morning, on a gorgeous t-shirt February day before being let into an absolutely packed AT&T Park. The best part of this fanfest: it took place at AT&T Park. Everything was open: the field, the press box, the dugouts and all the tunnels surrounding it, and I had a lot of fun just walking through everything and checking it out. AT&T Park is gorgeous, set right on the bay, and there are lots of additional fun places to meander in and out of. There were autograph sessions (which was basically a mash of shoulder-to-shoulder people crowded around tables) that I skipped, and Q&A sessions that I dropped in on. The other thing I noticed was that people were buying tickets and various memorabilia at an impressive clip. It's the end of the offseason and people are aching for baseball; I'd say now is the best time to swoop in and cash in on a fan's weakness with a subscription to Giants magazine, a Tim Lincecum jersey, or a season ticket plan.
The field was also open. As a baseball person, there's something to be said for walking on a real baseball field, a field that ballplayers actually play on. Even if it's not your team, the field has a very powerful vibe. There is something to be said for standing on the same pitcher's mound that Tim Lincecum beat Cliff Lee from. There is something to be said for walking up the first baseline and sitting in the San Francisco Giants dugout.
Enough about the Giants. The fact is, as I was staring at the triples alley sign, I was wondering why my amazing New York Yankees couldn't pull off a similar event. Granted, the Yankees have put on fanfests in the Javits Center and the old NY Coliseum where there were autographs, batting cages, and the like, but these lacked any actual Yankee Stadium walking, the best part.
There are two obvious big problems here: one, New York City in the middle of February is cold and wretched. The actual field would, most likely, be covered in a pile of snow. While I personally wouldn't mind hiking around the magical Yankee Stadium field even if there was six inches of snow on it, I don't think it's an ideal plan for more casual fans. Yankee Stadium certainly would not be able to match the girls sunbathing in the AT&T Park outfield. Nor'easters could delay the flights of the players that people are traveling to see. This particular February day in San Francisco possessed perfect baseball weather: sunny, high-60's, slight breeze. I think stomping around a snowy ball field might actually make me more depressed.
The solution for this is pretty simple: make the field off-limits, but open up everything else. The press box, for example. Let the vendors hawk their wares and open up the gift shops and museums. Set up tables for all the different players. Have Q&A sessions. Many of the things that went on at GiantsFest could easily be repeated in Yankee Stadium. Field aside, there are about a thousand new and exciting things to do in the Bronx that AT&T Park just can't match, and with all those things come business opportunities. It's the perfect time for the financial side of baseball to swoop in and take advantage of a team's fan base. Alternatively, you could shovel the field, although that would probably be an enormous effort for a dubious return: even a plowed field is not as welcoming as a bright green one on a gorgeous day.
The other problem is the people. I arrived about an hour and a half early to GiantsFest, to wait on line for two hours before we were actually in the park. Once we were in the park, I was concerned about being lost in the giant shuffle. The Giants routinely expect about 20,000 people to show up GiantsFest, but they had to guess more would arrive with a World Series title. More than 40,000 people – double the average number – showed up. They closed the gates of AT&T Park for an hour in the middle of the day to try and organize things, and I heard (though I don't know if this is true) that they closed the gates of the park permanently earlier than they had originally intended to. The planning the Giants Organization had done (or hadn't done) turned autograph lines into one absolutely shapeless mass.
40,000 people sounds like a lot, but here's some context: in 2010, Yankees games averaged about 45,000 people per game. That's a low: in 2009, the team averaged 53,000. The Giants averaged about 35,000 in the past two years. If the Yankees have that many people showing up to games that they have to pay for, they're only going to have more showing up to a free event. While lots of planning can be done to accommodate large groups, you're still dealing with a giant mass of people that are interested in wandering around than actually listening to rules or signs posted.
The other important thing to note would be that the main purpose of an event like this is to drum up interest in the upcoming season. The Giants had booths for buying tickets basically everywhere, and they were almost all overflowing with people. For a club that averages an additional extra ten thousand fans every game, the interest is already there, and perhaps the Yankees organization and those associated don't need to waste the manpower, money and stress that is involved in creating an event like a fanfest. I find that hard to believe, though, because in 2009 the Yankees hosted a similar event at the Javits Center, and their attendance in 2008 was strong already. It's the job of a good business to never stop looking for ways to make an extra dollar.
I don't know about you all, but even if the field was closed off due to snow, I'd still be very interested in walking around the Yankees Stadium concourse, looking through the various museums, picking up autographs and meeting with friends. I would love to watch a Q&A session with Girardi, Jeter and Cano. I'm sure lots of people would pick up tickets and buy souvenirs. It would be an awesome event, and I think the Yankees organization, knowing the crowds they draw, could handle the masses that would show up. I would even swallow down the massive helpings of team-supportive propaganda: at GiantsFest this year, someone actually announced Freddy Sanchez as the best second baseman ever. Really. Yeah.
Note: I tried to find the proper grammar for the term 'fanfest,' but basically every combination of capitals and one word/two word combinations came up.